Gaspee Days Committee

History Files
Gaspee Commemorative Coins & Medallions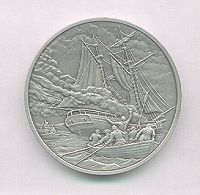 Franklin Mint 1972
This is a suprisingly large and heavy coin produced the Franklin Mint in 1972 as one of a set of 50 pewter medals commemorating the History of Colonial America. This particular coin is issue #43 and portrays the burning of the British ship Gaspee in resistance to British oppression. Inscription on reverse reads:

The Bicentennial Council of the Thirteen Original States
*NH*Mass*RI*Conn*NY*Penn*NJ*Del*Md*Va*NC*SC*Ga*
The burning of the British
ship "Gaspee" in 1772
encouraged the colo-
nists in their resist-
ance to British
oppression.
Side: THE OFFICIAL HISTORY OF COLONIAL AMERICA FINE PEWTER
Silver coin, assumably part of a series by an unknown mint. The detailed engraving portrays the Burning of the Gaspee. "As a result of the prolonged Townshend Acts Riots, angry colonists burn the British HMS Gaspee". 1.25 inches in diameter and hallmarked with reeded edge. Minted in the 1970's. While, historically, the burning of the Gaspee in 1772 was much removed from a reaction to the Townshend Acts of 1767, we'll enjoy the artwork.
Gaspee Days Committee 1972
The Gaspee Commemorative Coin was designed by Donald J. Breig, a Pawtuxet die cutter at the request of the Gaspee Days Committee. The obverse features the silhouette of the Gaspee surrounded by thirteen stars. The reverse shows the Independent Man and the legend, 'First Blow for Freedom'. On March 16, 1972, at Breig's die shop, 5 Aborn Street, Cranston, the Gaspee Day Bicentennial Commemorative Coin was struck. 1772 silver coins were made and sold for $10 each, and an unlimited number of copper coins were sold for $3 each.

The first silver coin was delivered to Governor Frank Licht, accompanied by Cranston Mayor James L. Tait and Warwick Mayor Philip Noel. Another silver coin was hand delivered to President Richard Nixon in Washington for inclusion in the Smithsonian Institution. The dies for the coins were destroyed on December 31, 1972.
Coin is silver or copper and is about the size of a US quarter
Rhode Island Historical Society 1972
Beautiful and impressive Bronze and Silver " Burning of the Gaspee " Commemorative marking the 200th anniversary of the historic event. Measuring 1.5 inches in diameter, the obverse shows a detailed artistic rendition of the burning Gaspee. Reverse shows the seal of the RI Historical Society. Minted in 1972 by the Franklin Mint, its population is limited to only 1104. Both medallions are the same size, though the photos have different image sizes.
Sterling silver medal (1 troy ounce) struck by the Royal Mint of Great Britain for the American Express Company as "Freedom Medals" for the American Bicentennial of the Revolutionary War. Each is proof finished and about 1.5 inches across. This medal depicts the Gaspee in flames and includes appropriate words by Samuel Adams in 1771.

Regent Pin, Providence, RI, 1913. From an estate sale found on eBay

Miller 1978 Gaspee Pendant and Earrings


The Gaspee Day Committee commissioned Pawtuxet designer C. L. Miller to create appropriate commemorative gifts for our annual activities. Earring set (b), clutch pin (c), tie-tack (d), and larger pendant (a) were available in satin finished pewter, and were exclusively sold by the Gaspee Days Committee in 1978
Back to Top | Back to Gaspee Days Committee History files