Gaspee

Virtual Archives
Admiral John Montagu (1719-1795)

The Gaspee Days Committee at www.gaspee.COM is a civic-minded nonprofit organization that operates many community events in and around Pawtuxet Village, including the famous Gaspee Days Parade each June. These events are all designed to commemorate the 1772 burning of the hated British revenue schooner, HMS Gaspee, by Rhode Island patriots as America's 'First Blow for Freedom' TM. Our historical research center, the Gaspee Virtual Archives at www.gaspee.ORG , has presented these research notes as an attempt to gather further information on one who has been suspected of being associated with the the burning of the Gaspee. Please e-mail your comments or further questions to webmaster@gaspee.org.

Selected excerpts without commentary:
From: Centre for Newfoundland Studies Archives, Memorial University Library, April 1997 http://www.library.mun.ca/qeii/cns/archives/montagu.php?print=1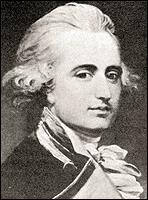 John Montagu was born in 1719 in Lackham, Wiltshire, the son of James Montague and a great-great-grandson of the first Earl of Manchester. Montagu entered the Royal Academy at Portsmouth on August 14, 1733 and served on board a number of vessels during the next seven years. He was promoted to lieutenant on December 22, 1740 and assigned to the Buckingham the following February. He attained the rank of commander in March 1744/5, and was made captain in January 1745/6 on board the 40-gun ship Ambuscade, seeing action at Cape Finistre the following May. He saw limited command in the eight years between 1748 and 1756, during which time he served as Member of Parliament for Huntington.
Montagu returned to active duty in 1757 as captain of the Monarque, and one of his first responsibilities was to carry out the sentence of the court martial of Admiral John Byng (Governor of Newfoundland 1742) who had been found guilty of negligence for his decision to retreat from the French forces at Minorca the previous year. Byng was shot by firing squad on the quarter-deck of the Monarque on March 14.
Montagu saw action in various European engagements during the Seven Years' War (1756-1763). In 1770 he was made Rear Admiral of the Blue Squadron and the following year made Commander-in-Chief of the North American station, from the Gulf of St. Lawrence south to Florida and the Bahamas, a position he held until 1776 when he was made Commander-in-Chief and Governor of Newfoundland. In February of that year he was raised to Vice Admiral of the Blue.

While in charge of the Newfoundland station, Montagu was mainly concerned with protecting the coast and the fishing fleet from American privateers. He succeeded in this by outfitting "a number of the best fast sailing vessels in the trade ... as armed cruisers, putting young lieutenants, masters, mates, midshipmen, and petty officers in charge of them. With the men-of-war under his command and these improvised sloops and cutters, he most effectively protected our coasts from the American privateers." (D.W. Prowse: 1895, pp. 340-1) With the outbreak of renewed hostilities with France in 1778, he ordered the capture of St. Pierre and Miquelon, had the town burned, and the 1392 residents sent back to France.

His tour of duty in Newfoundland ended in 1778 and he returned to England. From 1783 to 1786 he served as Commander-in-Chief at Portsmouth and rose through the admiralty ranks, being made Admiral of the White Squadron on September 24, 1787. He retired to Fareham in Hampshire, where he died on September 7, 1795.

Montagu married Sophia Wroughton of Wilcot, Wiltshire in 1748. They were the parents of one daughter and four sons. The three younger sons, George (1750-1829), James (1752-1794) and Edward (1755-1799) all followed their father into the service, George reaching the rank of admiral, James captain in the navy and Edward lieutenant-colonel in the army. George served as flag-captain to his father during the latter's last year at Newfoundland.
From: Berryhill & Sturgeon Historical Documents <http://berryhillsturgeon.com/>

Montagu commanded the North American Squadron from August 1771 to July 1774, a very trying period. He was embroiled in the Gaspee affair, the Gaspee Commission, the Boston Tea Party, and, as a final gesture, it was Montagu who initiated the naval blockade of Boston under the terms of the Boston Port Act. He was the most disliked of all the men who held the North American naval command. The Boston Tea Party was a protest by the American colonists against Great Britain in which they destroyed many crates of tea on ships in Boston Harbor. The incident, which took place on Thursday, December 16, 1773, has been seen as helping to spark the American Revolution. England reacted with the Boston Port Act. The Boston Port Act, passed by the British Parliament and becoming law on March 31, 1774, is one of the measures (variously called the Intolerable Acts, the Punitive Acts or the Coercive Acts) that were designed to secure the United Kingdom's jurisdictions over her American dominions. A response to the Boston Tea Party, it outlawed the use of the Port of Boston for "landing and discharging, lading or shipping, of goods, wares, and merchandise" until such time as restitution was made to the King's treasury (for customs duty lost) and to the East India Company for damages suffered. In other words, it closed Boston Port to all ships, no matter what business the ship had.
Service history:

1733 trained at Royal Naval Academy at Portsmouth,
1740 promoted lieutenant and served on the Buckingham,
1744 present at the Battle of Toulon,
1757 present at the execution of Admiral John Byng,
1770 promoted to Rear-Admiral of the Blue,
1771 — 1774 commander-in-chief of the North American station,
1776 promoted Vice-Admiral,
1776 commander-in-chief and governor of Newfoundland,
1782 promoted Full Admiral of the Blue,
1783 — 1786 commander-in-chief of Portsmouth
1787 promoted Full Admiral of the White,
From: Montague Millennium http://www.montaguemillennium.com/familyresearch/h_1795_john.htm


John Montagu, 1719-1795
Admiral.

Entered Royal Academy, Portsmouth, 1733; served on the Dreadnought, Shoreham, Dragon, and Dauphin; lieutenant, 1740; the Buckingham, 1741; Battle at Toulon (but the Buckingham remained in reserve), 1743; witness at court-martial (1743?), accused of being a mouth-piece for his captain:
`I never ask any man's opinion but go by my own. I always judged Mr. Lestock's conduct on that day unlike an officer, and always said so.'
To flagship Namur, given command of Hinchinbroke, 1744; command of Ambuscade (40 guns), 1747; in Anson's fleet at Battle of Cape Finisterre, 1747; various commands; as commander of Monarque in charge of the execution of Admiral Byng by firing-squad on the quarter-deck, 1757; and at destruction of De la Clue's squadron off Cartagena, 1758; a number of commands; with Hawke at Bay of Biscay, 1760;
Rear-admiral, 1770; commander-in-chief, on the North America station, 1771-1774; (the DNB: "defined as `from the River St. Lawrence to Cape Florida and the Bahama Islands'"); vice-admiral, 1776; commander-in-chief at Newfoundland, primarily fighting American privateers, also seized islands of Saint Pierre and Miquelon, 1776-1779; admiral of the blue, 1782; commander-in-chief, Portsmouth, 1783-1786.
Until 1749 wrote his name as Mountagu.
From:

John Adams diary

19, 16 December 1772 - 18 December 1773 [electronic edition]. Adams Family Papers: An Electronic Archive. Boston, Mass. : Massachusetts Historical Society, 2002. http://www.masshist.org/digitaladams/
Page 4


1772 DECR. 29 [i.e. 28?].
Spent the last Sunday Evening with Dr. Cooper at his House with Justice Quincy and Mr. Wm. Cooper. We were very social and we chatted at large upon Cæsar, Cromwell &c.

Yesterday Parson Howard and his Lady, lately Mrs. Mayhew, drank Tea with Mrs. Adams.

Heard many Anecdotes from a young Gentleman in my Office of Admirall Montagu's Manners. A Coachman, a Jack Tar before the Mast, would be ashamed -- nay a Porter, a Shew Black or Chimney Sweeper would be ashamed of the coarse, low, vulgar, Dialect of this Admiral Sea Officer, tho an a rear Admiral of the Blue, and tho a Second Son of a genteel if not a noble Family in England. An American Freeholder, living in a log House 20 feet Square, without a Chimney in it, is a well bred Gentleman Man, a polite accomplished Person, a fine Gentleman, in Comparison of this Beast of Prey.



Page 5


This is not the Language of Prejudice, for I have none against him, but of Truth. His brutal, hoggish Manners are a Disgrace to the Royal Navy, and to the Kings Service.

His Lady is very much disliked they say in general. She is very full of her Remarks at the Assembly and Concert. Can this Lady afford the Jewells and Dress she wears? -- Oh that ever my son should come to dance with a Mantua Maker.

As to the Admiral his continual Language is cursing and damning and God damning, "my wifes d--d A--se is so broad that she and I can't sit in a Chariot together" -- this is the Nature of the Beast and the common Language of the Man. Admiral Montagu's Conversation by all I can learn of it, is exactly like Otis's when he is both mad and drunk.
From: Trevelyan, Sir George Otto.

The American Revolution

, Vol 1, New York: Longmans, Green, & Co. 1898, page 132.


For ten years past ever since George Grenville's influence began to be felt in the distant parts of the Empire the claims of the Revenue had been enforced with unwonted rigour which in the summer of 1771 assumed an aggressive and exasperating character. Sandwich, who had succeeded Hawke at the Admiralty, had appointed an officer with his own surname and, as it is superfluous to state of his own party, to command the powerful squadron now stationed in American waters. Admiral Montagu who came fresh from hearing the inner mind of the Bedfords as expressed in the confidence of the punch bowl was always ready to make known his opinion of New England and its inhabitants in epithets which on a well ordered man of war were seldom heard abaft the mast.

The Admiral's appearance was milder than his language. Philip Freneau [the famous poet of the American Revolution] in a satirical

Litany

prayed to be delivered,

From groups at St James's who slight our petitions
And fools that are waiting for further submissions
From a nation whose manners are rough and abrupt
From scoundrels and rascals whom gold can corrupt
From pirates sent out by command of the King
To murder and plunder but never to swing
From hot headed Montagu mighty to swear
The little fat man with his pretty white hair



It was believed in America that Sandwich and the Admiral were brothers. The story in that shape has got into history.

From: Lovejoy, David S.

Rhode Island Politics and the American Revolution

,

1760- 1776.


Brown University Press, Providence, 1969, p160.


After attending the ceremonious departure of the Boston contingent for Newport, an English naval officer described the scene to a friend. It was well worth the trip across the Atlantic, he said, just to see "so respectable a squadron" as Admiral Montague with his flag and "old mother" Oliver, the Deputy Governor, who trembled "under his rusty sword, rigged out athwartship like the mizzen yard of a northcountry cat." These, with Auchmuty, and his large white wig "(in size equal to Ld. Mansfield's)" set out overland for Rhode Island in order to "send to England for trial and execution" the people who burned the Gaspee.

Source:

Newport Mercury

, April 26, 1773.

Owing to winter conditions Admiral Montague traveled overland to Swansea on the Taunton River where he boarded a vessel for the remaining part of the trip to Newport. He sailed into the harbor, his Admiral's flag flying, and was promptly saluted by His Majesty's vessels at anchor there. The cannons at Fort George were conspicuously silent, an incident which so infuriated Montague that he refused to call upon Governor Wanton and wrote home to the Lords of the Admiralty bitterly complaining about the insult he had received. Source:

Newport Mercury

, Jan. 25, 1773
The above story continues in: Stout, Neil R.

The Royal Navy in America, 1760-1775: A Study of Enforcement of British Colonial Policy in the Era of the American Revolution.

Naval Institute Press, Annapolis, MD, 1973,
p159:


Montagu's complaint was laid before the king, who, according to Lord Dartmouth, the new Colonial Secretary, was "justly incensed" and ordered that "his Majesty's ships of war, coming into any of the ports within the colony of Rhode Island, and having an admiral's flag or broad pennant hoisted, be saluted in such manner as is usual in all other parts of his Majesty's dominions in America."


p155


Montagu commanded the North American Squadron from August 1771 to July 1774, a very trying period. He was embroiled in the Gaspee affair, the Gaspee Commission, the Boston Tea Party, and, as a final gesture, it was Montagu who initiated the naval blockade of Boston under the terms of the Boston Port Act. He was the most disliked of all the men who held the North American naval command.



P199:


COMMANDERS OF THE NORTH AMERICAN SQUADRON OF THE ROYAL NAVY, 1759-1776
COMMODORE LORD ALEXANDER COLVILL, November 1759-October 1762
COMMODORE RICHARD SPRY. October 1762-October 1763
REAR ADMIRAL LORD ALEXANDER COLVILL, October 1763-September 1766
CAPTAIN JOSEPH DEANE, September 1766-November 1766 (Senior Captain)
CAPTAIN ARCHIBALD KENNEDY, November 1766-July 1767 (Senior Captain)
COMMODORE SAMUEL HOOD, July 1767-October 1770
COMMODORE JAMES GAMBIER, October 1770-August 1771
REAR ADMIRAL JOHN MONTAGU, August 1771-June 1774
VICE ADMIRAL SAMUEL GRAVES, June 1774-January 1776
Back to Top | Back to Gaspee Virtual Archives