---
Gaspee Virtual Archives
---
The Old Sabin Tavern Door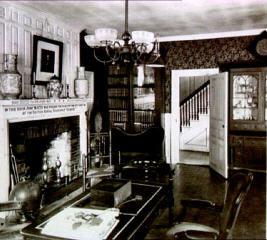 The Gaspee Room of Mary Arnold Talbot house - Providence Public Library Collection gc 2653
---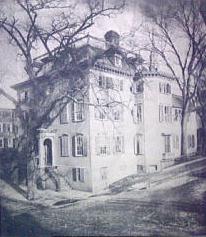 Sabin Tavern - Providence - South Main and Planet Street - demolished about 1870 - Memorial tablet states: Sons of Liberty - Upon this corner stood the Sabin tavern in which on the evening of June 9 1772 the party met and organized to destroy H.R.M. Schooner Gaspee, in the destruction of which was shed the first blood in the American Revolution. Providence Public Library Collection wc 688.1
---
The Old Sabin Tavern that once stood at the corner of South Main and Planet Streets, Providence, was built in 1763. In this tavern on the evening of June 9, 1772, Rhode Island patriots met and made plans to burn the British revenue schooner H.M.S. Gaspee. The patriots even cast their bullets in the Tavern.

In 1961 a large old building at the same corner was being demolished when the wreckers discovered parts of the Tavern. The old tavern was then moved to 209 Williams Street and added to a larger house, then the home of the Gaspee Chapter of the Daughters of the American Revolution. This one large room was named the Gaspee Room. Around 1980 the DAR's membership had dropped and the building was given to the Rhode Island Historical Society. The Society sold the building in 1983 and it is now used as an apartment house.

When the Tavern was uncovered in 1970, a Warwick resident salvaged the original door and gave it to the Gaspee Day Committee.

The Rhode Island Historical Society stored the door for many years before it was loaned to the Warwick Museum. In 1988, the Gaspee Day Committee voted to let the Pawtuxet Rangers keep the old door in their headquarters, the old Masonic Hall at the corner of Remington and Bank Streets, Warwick.

---
Back to Gaspee.com GDC History Files
---
Back to Gaspee Virtual Archives
---