Gaspee

Virtual Archives
Captain Benjamin Lindsey

(variously spelled Benjamin Lindsay)



The Gaspee Days Committee at www.gaspee.COM is a civic-minded nonprofit organization that operates many community events in and around Pawtuxet Village, including the famous Gaspee Days Parade each June. These events are all designed to commemorate the 1772 burning of the hated British revenue schooner, HMS Gaspee, by Rhode Island patriots as America's 'First Blow for Freedom' TM. Our historical research center, the Gaspee Virtual Archives at www.gaspee.ORG , has presented these research notes as an attempt to gather further information on one who has been suspected of being associated with the the burning of the Gaspee. Please e-mail your comments or further questions to webmaster@gaspee.org.

Evidence implicating Benjamin Lindsey
From: http://gaspee.org/StaplesGaspee.htm p13
On the 9th day of June, 1772, Capt.(Benjamin)

Lindsey

left Newport in his packet for Providence, about noon, with the wind at North; and soon after, the Gaspee was under sail, in pursuit of Lindsey, and continued the chase as far as Namquit Point, which runs off from the farm in Warwick about seven miles below Providence, now owned by Mr. John Brown Francis, our late Governor.—Lindsey was standing easterly, with the tide on ebb about two hours, when he hove about, at the end of Namquit Point, and stood to the westward, and Dudingston in close chase, changed his course and ran on the Point, near its end, and grounded. Lindsey continued on his course up the river, and arrived at Providence about sunset, when he immediately informed Mr. John Brown, one of our first and most respectable merchants, of the situation of the Gaspee.


Captain Benjamin Lindsey is considered a Gaspee Raider since he was the single individual who initiated the whole affair by leading the

Gaspee

aground off of Namquid Point on the afternoon of June 9th, 1772. But other than that, we really don't have any direct evidence that this Lindsey was actually involved in the subsequent attack and burning of the

Gaspee

. He is not mentioned further in any other first person accounts by Bowen or Mawney, but it is logical to assume that Lindsay's inclusion in the raiding party would have added valuable tactical intelligence.

To clear up points of confusion, it has been established that Ephraim Bowen, a Gaspee raider who wrote the above story at 86, erred in naming a Captain Thomas Lindsey. It was, from all other accounts, Captain Benjamin Lindsey (variously spelt Lindsay) who commanded the

Hannah

, but Thomas was his partner and also probably commanded the

Hannah

from time to time. So as to avoid confusion, there was one other similar sounding name in the story of the Gaspee Affair: John Linzee - Captain of H.M.S. Beaver; he worked closely with Lieutenant Dudingston and the

Gaspee

.
Biographical Information: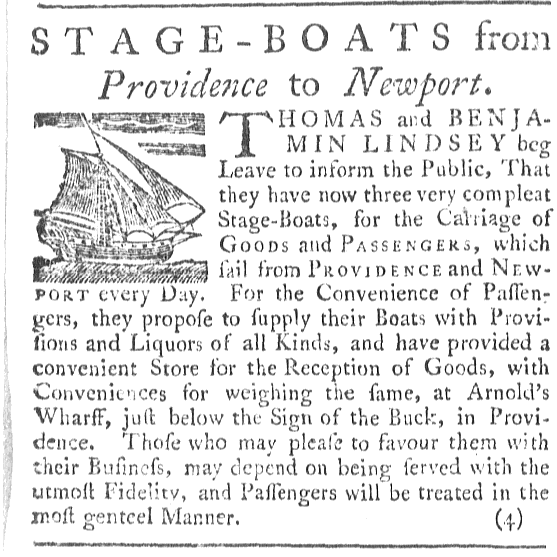 Right,

Ad from the Providence Gazette of January 1768.

From the NEHGS website we find the following in the

Early American Newspapers

collection. In October 1763 ads began appearing from Joshua Hacker and Benjamin Lindsey for their Providence to Newport packet boat carrying passengers and freight on a twice weekly schedule, and docking in Providence at Jenckes's wharf. By March 1766 this partnership had dissolved, and a new partnership had commenced between Thomas Lindsey and Benjamin Lindsey, whose boat in Providence docked at Arnold's Wharf. In 1769 Thomas Lindsey advertised that his wife Sarah had abandoned their marriage and that he would no longer assume her debts. In 1774 it was noted that Benjamin Lindsey had a store in Providence. Per the

Newport Mercury

of 15August1774 under "Shipping News", arrived from New York the ship

Joseph

, captained by Benjamin Lindsey. We also note that Benjamin Lindsey was Master of a Providence-based privateersman,

Victory

, in 1777 (Field, Edward,

State of Rhode Island and Providence Plantations at the End of the Century: A History

. Boston, Mason Publishing Co. 1902, Vol II, pp424-430).

From a NEHGS site search we discover in the list of Pomfret (Eastern CT) cemetery inscriptions (Vol 73 p116)


Here lies ye body of Samuel son to Capt. Benjn Lindsey and Waltha his wife. He departed this life Sept 13, 1778 aged 3 months and 12 days.


This makes a high likelihood that Walltha or Benjamin were from the Pomfret area. Of note, there are no Lindsey or Lindsay families among the list of Providence taxpayers for 1770. USGenWeb search of the 1790 Federal census reveals no Benjamin Lindsey living in RI at that time, There were 3 Lindsey families living in Bristol, and 2 in Providence in 1790. From: http://www.geocities.com/~kenlindsay/bnjmn1.htm <stale link 2010>


Benjamin Lindsey was living in Providence, Rhode Island, in 1774. The 1782 state census lists 1 free white male, including head of family and 2 free white females 16 &m up; 2 free white males under 16. References: 1782 State Census of Rhode Island, page 46.



The

Providence Gazette

of 17May1783 briefly announced the passing of Capt. Benjamin Lindsey of Providence. Unfortunately, his age or circumstances of his death are not given.

Wills were administered in Providence probate under the name of Benjamin Lindsey in both 1783 and 1805.

His notice of estate was published in July 1783 by Lemuel Allen and Weltha Lindsey. In April 1786 it was advertised that his widow, Weltha, was bankrupt.

From RI Historical Cemeteries Database at: http://www.rootsweb.com/~rigenweb/cemetery/cemetery213.html
There are five Benjamin Lindseys listed, but none of these could have been our Benjamin Lindsey. The lack of a RI burial would be expected if our Benjamin Lindsey died at sea.

It appears that Benjamin Lindsey's son, Benjamin Lindsey born in 1782, may have been the proprietor of a shoe store in Providence in 1829. According to an ad placed in the very first edition of the

Providence Journal

on July 21, 1829 (and reprinted in an 175th anniversary edition on July 21, 2004), one Benjamin M. Lindsey had such a shop at No. 17, Arcade. The Arcade is the very first indoor shopping mall in the world, and it still exists to this day.

One final note of interest. Wayne Tillinghast, in his well researched article, "The Three Captains Joseph Tillinghast of Providence".

(Rhode Island Roots

30:57-86, June 2004) relates that the original partner for Joshua (or Josiah) Hacker in 1762 packet boat enterprise was Captain Joseph Tillinghast, another known Gaspee raider. We also note from newspaper ads that Joshua Hacker (c1721-1794) was a cooper by trade from Newport, and that in 1767 he ran a daily packet from Newport to Providence in competition with the Lindseys at the rate of 9 pence per passenger.
Other genealogical alternatives below all discount the fact that we

know

our Benjamin Lindsey's wife was named Waltha. The only reason we keep it is that both Benjamin Lindseys served on privateers and died c1783.

From: The Ramsdell Genealogical Archive
http://www5.pair.com/vtandrew/ramsdell/archive.htm <link stale 2010>
Mary5 Ramsdell (John4, Jonathan3, Isaac2, John1) was born in Lynn, Essex, MA 25 July 1748. Mary died 26 January 1828 in Lynn, Essex, MA, at 79 years of age.

She married Benjamin Lindsey 12 December 1776 in Lynn, Essex, MA. Benjamin was born 1 October 1744 in Lynn, Essex, MA. Benjamin died in 1782 at sea., at 37 years of age. Benjamin was "killed on board a Privateer near the end of the Revolutionary War".

Mary Ramsdell and Benjamin Lindsey had the following children:

i. Ralph6 Lindsey was born in Lynn, Essex, MA 26 May 1778. Ralph died 12 June 1836 in Lynn, Essex, MA, at 58 years of age. He married Joanna Mumford 1799 in Ashford, CT. Joanna was born 4 June 1774 in Kingston, RI. Joanna died 20 September 1855 in Lynn, Essex, MA, at 81 years of age.

ii. Rebekah Lindsey was born in Lynn, Essex, MA February 1780. Rebekah died 20 October 1795 in Lynn, Essex, MA, at 15 years of age.

iii. Benjamin Lindsey was born in Lynn, Essex, MA 13 October 1782.
From the World Genealogical Database on Ancestry.com, we have:
Name: Benjamin LINDSEY
Sex: M
Birth: 1 OCT 1744 in Lynn, Mass
Note: killed on board a privateer near the close of the rev. war

Father: Ralph LINDSEY b: 2 AUG 1712 in Lynn, Mass
Mother: Abigail BLANEY b: 1715 in Lynn, Mass

Marriage 1 Mary RAMSDELL
Married: 12 DEC 1776
Note here that the term "late Revolutionary War" could be construed to mean after the defeat of the British at Yorktown in 1781 but before the signing of the Treaty of Ghent in 1783. There were still hostilities going on after Yorktown, but the British were no longer an effective force on land. If this is our Benjamin Lindsey, he would have been 27 years old at the time of the attack on the Gaspee, and old enough to have been placed in command of a packet sloop, the Hannah, but the Rhode Island connection presented here is weak. He must have moved back to his hometown of Lynn, MA sometime after the Gaspee attack. We could assume he and his wife Mary (Ramsdell) Lindsey raised their children in Lynn, but that eldest son Ralph met his wife in Rhode Island or in nearby Eastern Connecticut. Mary Ramsdell Lindsey and her family may well have traveled frequently back and forth between Rhode Island and Massachusetts. It was common for a woman of the time to return to her maternal family at the time of impending childbirth, and this could explain the lack of consistency in the families whereabouts during the 1790 Federal census. She was 35 years old when widowed, and may have remarried.
The Gaspee Days Committee honors Captain Benjamin Lindsay as the brave soul that led the

Gaspee

aground in 1772. Whether he actually participated in the subsequent raid is of little concern, he is still recognized as an American patriot.
Back to Top | Back to Gaspee Virtual Archives