Biographical Sketch:



John Mawney was born in 1751 and was a descendant of rather wealthy French Huguenots. His father, also John Mawney, was born in East Greenwich in 1718 and married Amey Gibbs in 1745 (see http://www.gencircles.com/users/joanolsson/1/data/11678). John Mawney (1718) was described in his daughter's later obituary as being a merchant from Providence. We find the senior John Mawney's (1718) name in a partnership with Stephen Hopkins as owners of the Rhode Island privateering ship

Reprisal

, in 1745 during King George's War1A. The elder John Mawney also had served as Sheriff of Providence from 1746 to until his death in 1754, dying only three years after the younger John was born, but leaving a sizable estate1. According to Wayne G. Tillinghast in

The Tillinghasts In America: The First Four Generations.

(RI Genealogical Society, 2006), p312-316 7, John's maternal uncle, Dr. Ephraim Bowen, was executor for the estate of John Mawney (1718), and managed the large real estate holdings for the benefit of young John Mawney (1751). This is the very same Dr. Bowen whose son (and Dr. John Mawney's first cousin), Ephraim Bowen, Jr., gives the most retold account of the burning of the

Gaspee

.

Mawney was apparently well educated, was known to study the Classics, and could speak Latin. All of these skills were essential for anyone pursuing the study of medicine and surgery. It is probably accurate to state that he was a medical student at the time of his participation in the attack on the

Gaspee

in 1772. Fellow Gaspee raider Ephraim Bowen, Jr. stated that at the time of the raid, "John Mawney, who had for two or three years been studying physic and surgery, ...." Mawney, in the preface to his own statement about his recollection of the attack on the

Gaspee

indicates that he was personally acquainted with several persons who had been shot and killed at the Boston Massacre of 1770; this suggests that he may have been receiving some of his medical training in Boston during that time. On the other hand, it stretches Mawney's credibility with his assertion that among the five Colonists killed at the Boston Massacre were, "two of my intimate acquaintances and friends." Four of those killed were likely dockworkers or sailors, only Samuel Maverick was possibly an apprentice to a dentist.

Since he was recognized in 1781 as a Regimental Surgeon he must have had some formal medical education, but such education was not standardized back then in the Colonies. It would be unlikely that he trained at a European medical school for he was probably too young to have been accepted at the time. He more probably trained as an apprentice under his uncle, Dr. Ephraim Bowen, and later with his first wife's father, Dr. John Wilson, in the Hopkinton, Massachusetts area, not far from the Northern border with Rhode Island. It is also important to know that 'Surgeons', as he was, were often quite differently trained than the 'physicians' that used herbs and concoctions (see Solomon Drowne, MD).

It can only assumed that John Mawney was akin to a Doogie Howser MD; and it's not unheard of at the time. At age 20, his close friend, Theodore Foster, had already graduated Brown University, married and had a child, completed a law degree, and began practicing law in Providence, RI. The early completion of their educations probably stems from the lack of a formalized educational routine in eighteenth century America, so that they were not held back by the necessity of finishing each school grade level that we have today. And the practice of surgery, at that time, had a somewhat limited skill set to master since general anesthesia was not invented until 1842. A busy surgeon's practice likely consisted of lancing boils, general wound care, setting broken bones, and performing amputations when necessary with plenty of alcohol and a bullet to bite.

In 1781 Mawney was appointed surgeon of the 3rd Company of Providence, [Second Regiment, Providence County Militia]. The RI Historical Society has in its possession an empty wooden box for which the provenance indicates it was a case for the surgical instruments of Dr. Mawney. He is not known to be listed in any local directory of notable doctors of the time2. While he was supposedly trained as a surgeon, he was never known to have practiced much surgery or medicine after his stint in the Revolutionary War. But then, the practice of surgery or medicine at the time was arduous and frequently not well paid. Since Mawney was wealthy to begin with, he must have felt no economic imperative that forced him into a continuing role in that occupation.


Right:

Doctors were generally not allowed to advertise their services so it is not surprising that we do not see ads in the local newspapers; but we do find a rather bizarrely humorous newspaper ad advising the public that the field of corn owned by
John Mawney, "Practitioner of Surgery" was being guarded by two mastiffs, but he would attend to anyone bitten, free of charge. (

Providence Gazette,

12 June 1773, p3).
European mastiffs were large and ferocious watch dogs that were a dying breed until interbred with the American bull dog in the late 1800s to create the more commonly known bull-mastiff of today..

It can be surmised from historical accounts of the Gaspee incident, however, that Doctor Mawney gave fairly competent care to the wounded Lt. Dudingston. He removed the bullet from the wound site above the groin. The 'scrapping of lint' was likely an attempt to promote clotting of the wound, and to prevent abcess formation by keeping the wound open to granulate Remember, there were no antibiotics available at the time. He then applied what appears to be a pressure bandage over the site and was able to adequately stem the hemorrhage. Given the location of the wound and the lack of antibiotics or of definitive surgical closing of the musket ball wound, it is truly wondrous that Dudingston survived the attack at all. In fact, Dudingston's wound to the groin was not to the testicles, but just off to the side, nearby on the leg. He is known to have fathered four children by 1806. On the other hand, Dudingston, in his December 1772 petition for relief to King George III claims that the musket ball was still embedded in his groin, and may have traveled down to his knee, If true, the ball might have split, and Mawney only removed a portion of it. In either event, Dr. Mawney was wise to have declined the invitation of one Dr. Henry Sterling to visit with the recovering Lt. Dudingston. Had Dudingston recognized him, Mawney might have been hung as a traitor to the Crown.

Newspaper and journal accounts of the Revolutionary period cite that Mawney in 1774 was appointed quartermaster for the Providence Troop of Horse, in 1775 was a charter member of Captain General's Cavaliers, described as the crack troops within the State, and which fought at the battle of Rhode Island. One source claims that he was Captain of a sloop, Gaspee, "as one of the most conspicuous actors in this remarkable event."3 In 1781 Mawney was appointed surgeon of the 3rd Company of Providence, in 1785 was a Lieutenant., and between 1789 to 1792 was Lieutenant Colonel, Commanding, of the First Regiment of Providence County. That honor may have been largely ceremonial as the Revolution had been over for 10 years, but on the other hand, there was no regular, standing US Army at the time so the local militias stood ready to fill that void should it have been needed. We have no evidence, as of yet, as to whether Dr. Mawney was deployed in action either in state or out of state. Unfortunately, because he died in 1830, we can find no application for pension based on any service in the Revolutionary War. We can, however, assume that he was never grievously wounded since he did not apply for a invalid pension that was offered in earlier years.


Most family records indicate that John Mawney married

Nancy

Wilson in 7Oct1775, daughter of a Dr. John and Elisabeth (Overing) Wilson, but <> p390 available on Ancestry.com has her name as

Mary Anne

Willson (misspelled with 2 'l's) born in 1754, also a daughter of Dr. John and Elizabeth Wilson. Later he was known to have married Elizabeth P. Clarke, fourteen years his junior. An obituary for Elizabeth appeared in the 23April1803

Providence Gazette

listing her age of 39 (born c1764). We also note that in May of 1827 he held a funeral at his Cranston house for a Phoebe Clifford, 72 (born c1755). John had three children that we know of; John, Mary, and Susan5. In the 2July1829

Rhode Island Republican

is a legislative notice granting the petition of John Mawney to legitimize one Susan Ware. We're not quite sure what this means. His daughter Elizabeth Ware had married into that name and was a widow by 1816 according to sources below. Dr. Mawney became known as a literary scholar who circulated among the elite society of Rhode Island. But according to colonial records Mawney, "suffered greatly in the public esteem on account of his bold and unblushing irreverence and infidelity."4 To be fair, this may all be a gross exageration of reality, for such statements could be made by many religious zealots with whom he may not have agreed--perhaps indicating he was an shunned Huguenot Protestant or, more likely, an atheist.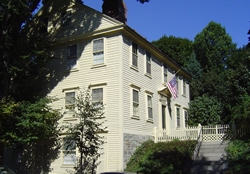 Dr. John Mawney's large home lot appears on the map of 1770 List of Providence Taxpayers in a prominent location on the East side of North Main Street, directly across the street from Deputy Governor Darius Sessions. The original house c1763 (pictured at left) still stands at 135 Benefit Street, and was the setting for H. P. Lovecraft's famous 1927 horror classic, The Shunned House. (Lovecraft himself indicates the first owner was a William Harris and his wife Rhoby Dexter Harris, all dying of a mysterious poison-like death.) Lovecraft was incorrect, for according to Wayne Tillinghast7, a fifty foot lot on Benefit Street was transferred from John Mawney to his brother-in-law, Stephen Harris (husband of Mawney's sister, Hannah) in January 1784. Mawney had completed the house deed transfer to Harris by 1798. On the other hand, H. P. Lovecraft must have known some of the house's history quite well for he did state the original owners of the land as being Huguenot, a sect from which John Mawney was descended. A rather extensive title search of this property by the present owner is included in the History of 135 Benefit Street (a work in progress).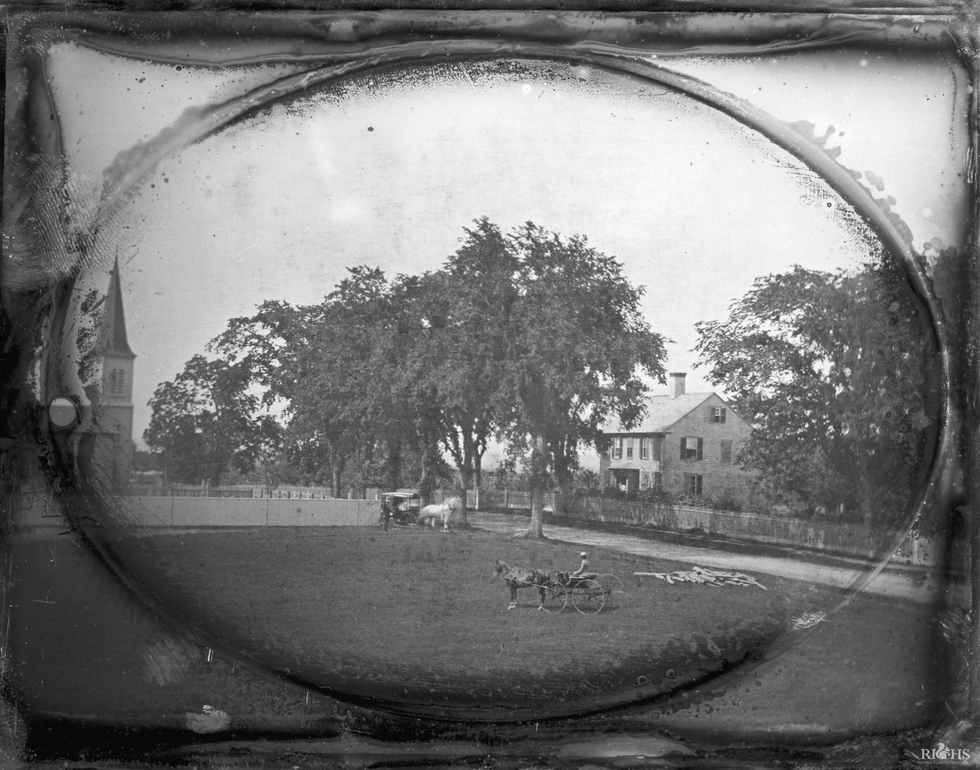 The house on the left (c1850s daguerreotype) was originally the Cranston estate of Dr. John Mawney at near what is now the Knight Memorial Library. RIHS RHiX36959. Click to enlarge.

After 1794 Mawney removed from Providence to his inherited farmland in neighboring Cranston. Mawney's other estate comprised 94 acres; a large portion of what is now known as the Elmwood neighborhood in the West End of Providence, nearby or within the confines of the adjoining city of Cranston. In Providence land evidence documents he called himself a 'yeoman' which at the time referred to a farmer that worked his own farm, in this case at his Cranston estate in the Elmwood area, though he probably had hired help. It was likely located not far from, if not on, the site of Mawney Street in Providence. In the summer of 1802 he was advertising in the Providence Phoenix land for lease off of Pleasant Street, and in June of 1815 he was advertising for lease or sale both his estates in Cranston and in Providence. He may have been overpriced; for he ran the ad for over three years, and the Providence estate was sold at auction in March 1825.
Sometime around 1778 he resided in just over the northerly RI-MA border in Hopkinton, MA where both his first and second wives families were from. In 1788 John Mawney was among those listed in the Providence Gazette as Justices of the Peace for Providence, and in 1792 as both a Town Auditor and a Clerk of the Market. In 1792, ads in the Gazette listed him a sheriff (as was his late father), often chasing horse thieves.. He was elected as Representative to the General Assembly several time between 1796 and 1801, and frequently served on the Cranston town council between 1797 and 1817. In 1798, he was appointed a Justice of the Peace for Cranston. Between 1801 and 1803, John Mawney was listed as Sheriff for Providence County. In 1791 he was listed as a member of the Providence Society for the Abolition of Slavery It was common to have slaves in the 1750-1770 era, and he refers to a Pero (presumably his household slave) in his statement about his participation in the Gaspee attack, but it should be pointed out that Mawney was an Abolitionist in his later years. A notice of 1805 lists him as a member of the Providence, Cranston, and Johnston Detecting Society, and in 1809 he was president of that society.

According to The Records of the Original Proceedings of the Ohio Company : Ohio Company Series (Marietta, Ohio: Marietta Historical Commission, 1917, 564 pgs) a Colonel John Mawney was an active stake holder in Ohio land development in the 1790s, as was Gaspee raid leader Abraham Whipple., and in fact we find an ad taken out by John Mawney in the 2April1796 Providence Gazette regarding a stake holder meeting in Providence of the Ohio Purchase Company.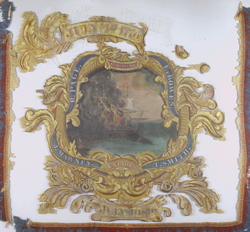 Right: 1826 parade banner depicting the burning of the Gaspee. Surrounding the picture are the names of the four then 'surviving captors' who participated in the raid who were being celebrated: B. Page, E. Bowen, T. Smith, and J. Mawney. Courtesy of RI Historical Society RHiX17317. Click image to enlarge.
We are told tales of how he rode in a carriage during the 50th Anniversary Gaspee Parade of 1822, and often in the 4th of July Parades with Ephraim Bowen et al to be ceremoniously honored as part of the crew that burned the Gaspee6.
Dr. Mawney died at the age of 80 at his Cranston estate. John's obituary appeared on March 2, 1830 in the Providence Phenix. His grave stone states that Dr. Mawney achieved the rank of Colonel in the Rhode Island Militia. He is buried in the Old North Burial Ground at Providence, as is his father, and not far from his fellow Gaspee raider, Joseph Bucklin.

Genealogical Addendum:



For further facts on the Mawney family, see A Mawney Line of Descent, by Stanley W. Arnold, Jr., Rhode Island Genealogical Register, Vol 11 ( 1988) at 202 et seq.1 . The following is adapted from: http://www.gencircles.com/users/joanolsson/1/data/11688 This information is obviously taken from a late 19th century source.

THE MAWNEY FAMILY:

John Mawney (1718 - 1754), son of Col. Peter Mawney (1689 - 1754) and Mary Tillinghast (1694 - 1726), died just before his father, and his will is recorded in Providence. He married, October 29, 1745, Amey Gibbs (1725 - 1805), daughter of Robert Gibbs (1697 - 1769), who is described on his tombstone in the North Burial Ground, as descended from the family of Sir Henry Gibbs (1593 - 1667), of Dorsetshire, England. Amey Whipple Gibbs (c1700 - 1757), wife of Robert Gibbs, was daughter of Col. Joseph Whipple (c1662 - 1746), and widow of (???most logically, John [c1694 - 1719]???) Crawford. The five children of John Mawney and Amey Gibbs Mawney were:

1. Mary (c1746 - 1757), died aged eleven years.

2. Nancy or Anne (1747 - 1765) died aged seventeen years. Married by Joseph Potter, Justice. Obituary in Providence Gazette of 9March1765 names her as "Miss Anne Mawney"


3. Pardon, born at Providence, December 27, 1748; died August 6, 1831 on the homestead, in East Greenwich, given him by his grandfather's will. He married Experience Gardiner (1751-1815), daughter of Caleb Gardiner (c1710-___), of South Kingstown and had 15 children (see http://www.whipple.org. One offspring of this marriage was Amey Mawney (1777-1864) who married William Earle Tillinghast (c1777/8 - 25 Apr 1817), who happened to be the son of Gaspee raider Captain Joseph Tillinghast, Dr. John Mawney's best friend. Joe Tillinghast and John Mawney lived together around the time of the Gaspee Affair in 1772. Another offspring of Pardon and Experience Mawney was a John G. Mawney b 1770, not our guy, but a source of potential confusion.

4. Dr. John Mawney (c1751-1830), a physician, sometime sheriff of Providence county, and was in the expedition that burnt the Gaspee. He died in Cranston, on 3 March 1830, in his 80th year, and was buried in the North Burial Ground, as are many fellow Gaspee raiders. He married, first, Nancy (or Mary Ann) Wilson (dau. of Dr. Wilson of Hopkinton, MA) on 2 Dec 1775; married second, Elizabeth Prentice Clarke (1765-1803), married 5 APR 1784 in Hopkinton, MA. We can't find a trace on Nancy. Curiously, neither of his wives under any name variation are listed separately as being buried with him, or even appear with the last name Mawney in the RI Historical Cemeteries Database. They may have been buried in their home town of Hopkinton, MA. For that matter, neither does his mother, Amey (Gibbs) Mawney. . Children:
a. John W., married Ruth, daughter of John Gladding, He died at his father's farm in 1816 after a long illness and left one child, Elizabeth, who married William A. Cole, and resided in Shakapee, Minnesota. Note: this John may have been son of Dr. John Mawney and his first wife, Nancy Wilson.

b. Mary C. (c1786-1864), daughter of John and Elizabeth, married Henry Valentine (1786 - 1847) of Hopkinton, MA in 1807. Their children were, first, Maria A.; second, Edward H.; third, John M.; fourth, Elizabeth; fifth, Horatio; sixth, Harriet A.; seventh, Alfred A., lived in New York City. Mrs. Mary Valentine died in Brooklyn, NY.

c. Susan, born January 5, 1788; married Benjamin Pond Ware, 1812. He died in 1816. She died October, 1869. Of the children, Albert P. Ware, born August 3, 1813, lived in Andover, Massachusetts, and Charles M. Ware, born August 23, 1815, lived in Norwich, Connecticut.
5. Hannah (c 1753 - 1789), daughter of John Mawney (1718) and Amey Gibbs, married Stephen Harris (son of David and Martha [Jenckes] Harris), January 23, 1775. She died at the age of 36, leaving one son, Stephen M. Harris, father of the late Almoran Harris.